Above & Beyond Smart Thermostat Solutions
More and More homeowners and Commercial property managers continue to shift to a more green and sustainable efficient environment, we install more smart thermostats than ever. Not only do smart thermostats make heating and cooling your residence or building more convenient, but they also provide energy savings and help prolong the life of your boiler systems. Now you can control your heat or air conditioning right from your smartphone—no more wasting energy while you're away from homebase!
We can handle any installation of a new thermostat with or without a new boiler installation. We install all brands and types, including popular brands like Honeywell, Heat-timer and Ecobee. We can also install the most basic models to more intricate and sophisticated systems to handle any and all boiler controls with the touch of a button.
These smart technology and monitoring systems are designed for commercial and multi-family applications, no matter how large, complex or demanding your heating requirements are, or how old or new your building is. We focus on creating systems that are easy to install, program and manage, and that save building owners the maximum amount possible on yearly fuel costs while maintaining heating comfort and extending boiler life.
Ready to have a Smart Thermostat installed? Call (718) 484-4911 or Send us a Message for Your Free Quote Today..
Typical applications include:
Control of multiple steam or hot water boilers

Outdoor reset controls

Control for city steam heating systems

Wireless boiler control and monitoring from any computer, tablet or smart phone

Commercial or Residential boiler control

3-Way mixing valves for hot water heating systems

Control of either staging or modulating boilers

2-way steam valves for steam heating systems
WE OFFER 24/7 EMERGENCY SERVICE, 365 DAYS A YEAR.
Call (718) 484-4911 for Emergency Plumbing in ALL 5 BOROUGHS
Plumbing and heating issues are unpredictable. Therefore, our expert plumbers are standing by 24 hours a day, 7 days a week for plumbing and heating emergencies. Whether it's for a residential or commercial property, we are here for you!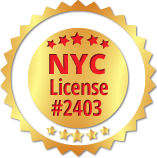 Our Reviews
I had an issue with my baseboard heating and called Above & Beyond Plumbing. Michael took care of the problem immediately. He was courteous, kind and professional. The work was done professionally and accurately. There have been no problems since the repair was completed 7 months ago. I would definitely…
- Eugene Kim
Recommended by a neighbor and I'm happy to recommend them to you. My boiler went out late Friday evening going into a very cold weekend – so no heat and hot water on the horizon. Above & Beyond to save the day! Their emergency service was responsive, fast, and a…
- James Patterson
My wife and I have worked with Above & Beyond for more than three years now, with two properties' plumbing and heating needs, both regular maintenance and emergencies. Mike, his onsite teams, and the office staff have consistently been a pleasure to work with: excellent communication, professional, prompt, superb quality,…
- Ted Lee